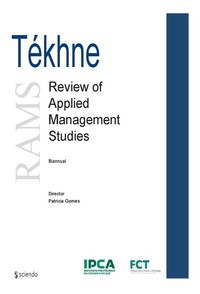 Tékhne
Review of Applied Management Studies
Online ISSN: 2255-3866
Tékhne – Review of Applied Management Studies is an international peer-reviewed journal, owned by the Polytechnic Institute of Cávado and Ave (IPCA). It welcomes the submission of original research papers and review articles in various areas of management, including accounting, auditing, corporate governance, corporate social responsibility, entrepreneurship, financial management, human resource management, management control, marketing, organizational behaviour, strategic management, taxation, amongst others.
The journal aims to provide a forum for the publication and dissemination of theoretical and empirical research conducted in the management domain, as well as to promote the interconnection of academic research with practical reality. By disseminating the scientific results obtained by academics, it facilitates the exchange of knowledge and ideas between researchers on an international level. Its intended audience includes academic researchers and educators, as well as business professionals.
The open-access journal is based on a process of double-blind peer review and is published twice a year in the English language. Submissions are permanently open and proceed totally online via Editorial Manager.
For more information about the journal and for online submissions please visit: https://content.sciendo.com/view/journals/tekhne/tekhne-overview.xml
Contacts:
Director/Editor-in-Chief – Patrícia Gomes: pgomes@ipca.pt
Managing Editor – Raquel Mendes: rmendes@ipca.pt